TennisMan.EXE

Gender

Male

Weaponry

Tennis Racket

Creator

Pocket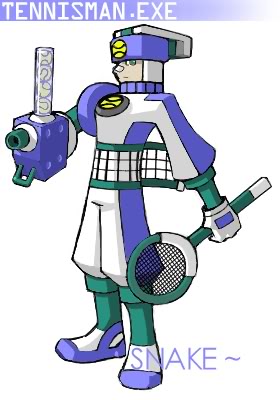 Appearance
Edit
Tennisman is a fairly humanoid-looking navi with aqua-green eyes and a baby blue and white jumpsuit, complete with a tennis ball as his emblem (located on the sweatband on his forehead and his chest). His shins and forearms are covered with a thick teal band, and he wears blue and white shoes and gloves to match the rest of his clothes. The top of Tennisman's head, above his sweatband, has a metallic plate with a teal stripe down the middle that ends abruptly on a sharp bend downwards at the back. His midsection is wrapped in a tennis net that trails just slightly behind him. Tennisman's right arm can be changed instantly into a blue cannon with a visible clip of tennis balls sticking out from the top. As Tennisman is primarily left-handed, his left arm remains dedicated to weilding his tennis racket and does not have the ability to physically change in any way. His racket is just a plain-looking teal and white racket. He also has a bandage on the bridge of his nose.
Personality
Edit
Tennisman began his life as a standard normal navi. Over the years, Desmond installed every piece of tennis-related data that he could find on the net, resulting in Tennisman developing highly advanced tennis skills. He frequently plans several steps ahead and fights efficiently and defensively, just as he would while playing tennis. As a side effect of being infused with copious amounts of tennis data, the rules of the game were heavily ingrained into his mind, giving him a sense of strict adherence to regulations and guidelines. These morals translated into a black and white sense of justice that he follows vehemently. Viewing viruses as abberations to the net's norm, he has no qualms with deleting them and even actively seeks out problems in order to right them. Additionally, his social skills became severely compromised from being so heavily focussed on tennis, giving him no interest in small talk or unnecessary conversation.
Signature Attacks
Edit
Ace Serve
Netplay
Court Change (grass/clay)
Rally Defense
Reflex Volley
OUT!
Split Step

SoulCrosses
Edit
No.
Support Programs
Edit
2.
Yes
Fractals.